Flickr Image Retrieve Plugin
This plugin is developed for the ICY image analysis software. You can download it from the main repository. I have also developed some other plugins.
Plugin documentation
This plugins grabs random images from Flickr :
in recent uploads
in interestingness stream
using tags search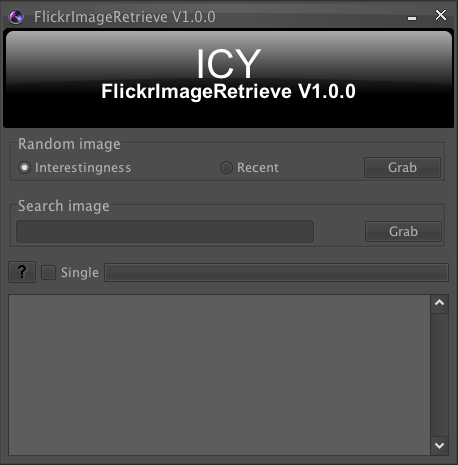 The plugin window is divided in three main areas. The first panel is dedicated to purely random search. You can specify whether you want to have images from the recent uploads or from the interestingness stream before clicking on the corresponding button. The second panel allows you to search images through the tags search engine. Enter your tags separated by spaces and click on the grab button. If you enter severall tags, the search will return images having all of them.
By default, each request will retrieve 100 images and display their thumbnails. If you prefer to have directly a single image opened in ICY, check the single box.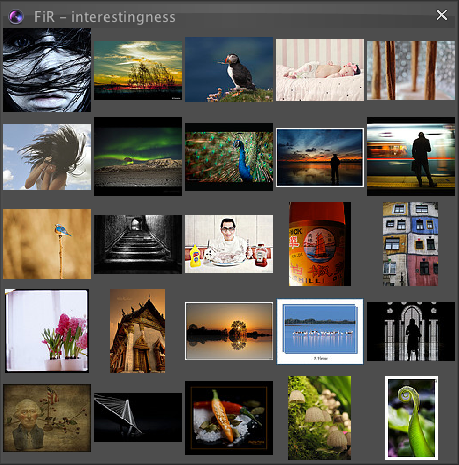 The last part of the main window displays log informations. You will find here the original Flickr URL of any image you opened in ICY.
Notes for developers
This project is available on github
Otherwise, the source code is always provided inside the jar file of the plugin. The images are grabbed from Flickr thanks to the API they provide. I developed a very simple parser that can easily be reused to access methods that do not need authentication. See the plugins.nherve.flickr.tools package for further explanations. If you are interested in the image grid component, you should have a look at the plugins.nherve.toolbox.genericgrid package in my toolbox.